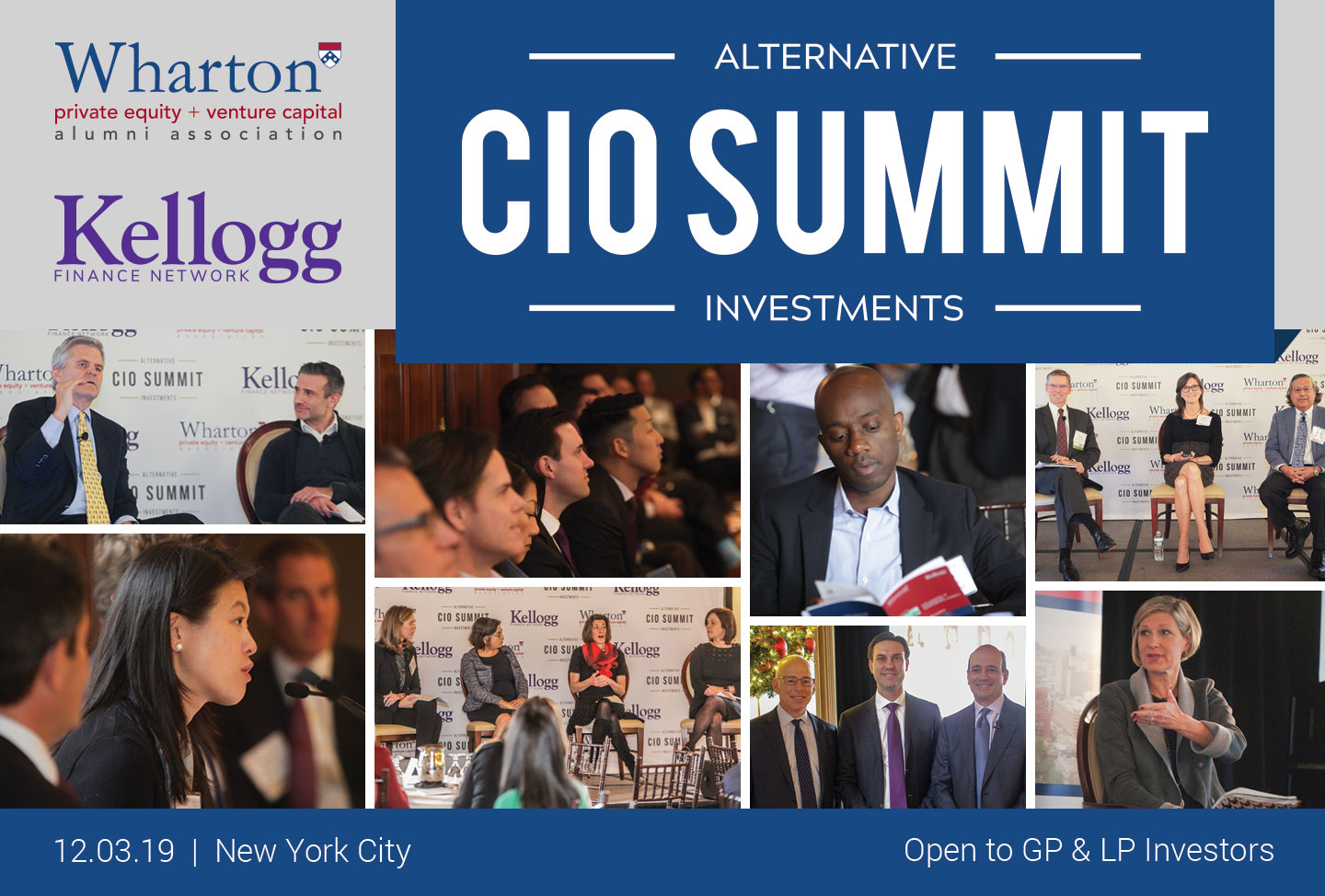 Committee Members
Wharton Co-chairs:
Jonathan Ben-Horin (WG'11)
Ken Lee (WG'07) - Carnegie Corporation of New York
Kellogg Co-chairs:
Greg Williamson (KSM'85) - Pluribus Labs
Chris Winiarz (KSM'10) - Lakeview Capital Management
Planning Committee:
Tod Buys (KSM'01) - Cambridge
Jose Guzman (WG'11) - New York City Pension Fund
Emily He (WG'16) - Rockefeller Foundation
Clara Kim (KSM'01) - Colchis Capital Management
David Koh (KSM'99) - Bank of America
Edyta Riley (C'04, WG'10) - Ford Foundation
Tina Sodhi - Triago
Jared Weiner (WG'07) - Archean Capital

Tuesday, December 3, 2019
New York Athletic Club | 180 Central Park South
New York, NY (59th & 7th Avenue)
8 AM - 6:30 PM
Open only to institutionally sized GPs/LPs.
LP scholarships available to non-profit pensions,
foundations, endowments - inquire to info@wpevc.org
What distinguishes the CIO Summit from other conferences?

The Summit consistently attracts world-class investors and thought-leading allocators for a powerful day of networking and high-level discussions of the most critical issues confronting money managers and investment officers. Several important factors distinguish this Summit from other conferences.
Hosted by two top-tier university-based organizations
Focused on bringing LPs and GPs thought-provoking content and ideas in an intimate, engaging environment.
A peer only setting/investor only for alternative investors who share the common interest of participating in leading edge discussions about the future of our industry
Multi-year success in convening investment decision makers from endowments, foundations, single/multi- family offices, corporate and public pensions, as well as insurance.
No media means open discussions on the most critical topics facing alternative investors today

Attendee make-up:

MagnetWidget::Eve
nt Dashboard




Thank you to our Lead CIO Summit Sponsors:


Interested in sponsorship opportunities? To learn more about becoming one of our exclusive sponsors please email Stephanie McAlaine at smcalaine@wpevc.org or
Jen Simons at jsimons@wpevc.org.

Cancellation & Refund Policy:
Cancellations must be received by November 22 at 9 PM EST to receive a refund. Email jsimons@wpevc.org. Substitutions welcome in advance or onsite; attendees must be institutionally sized
GPs/LPs and meet the same criteria as the intended guest.