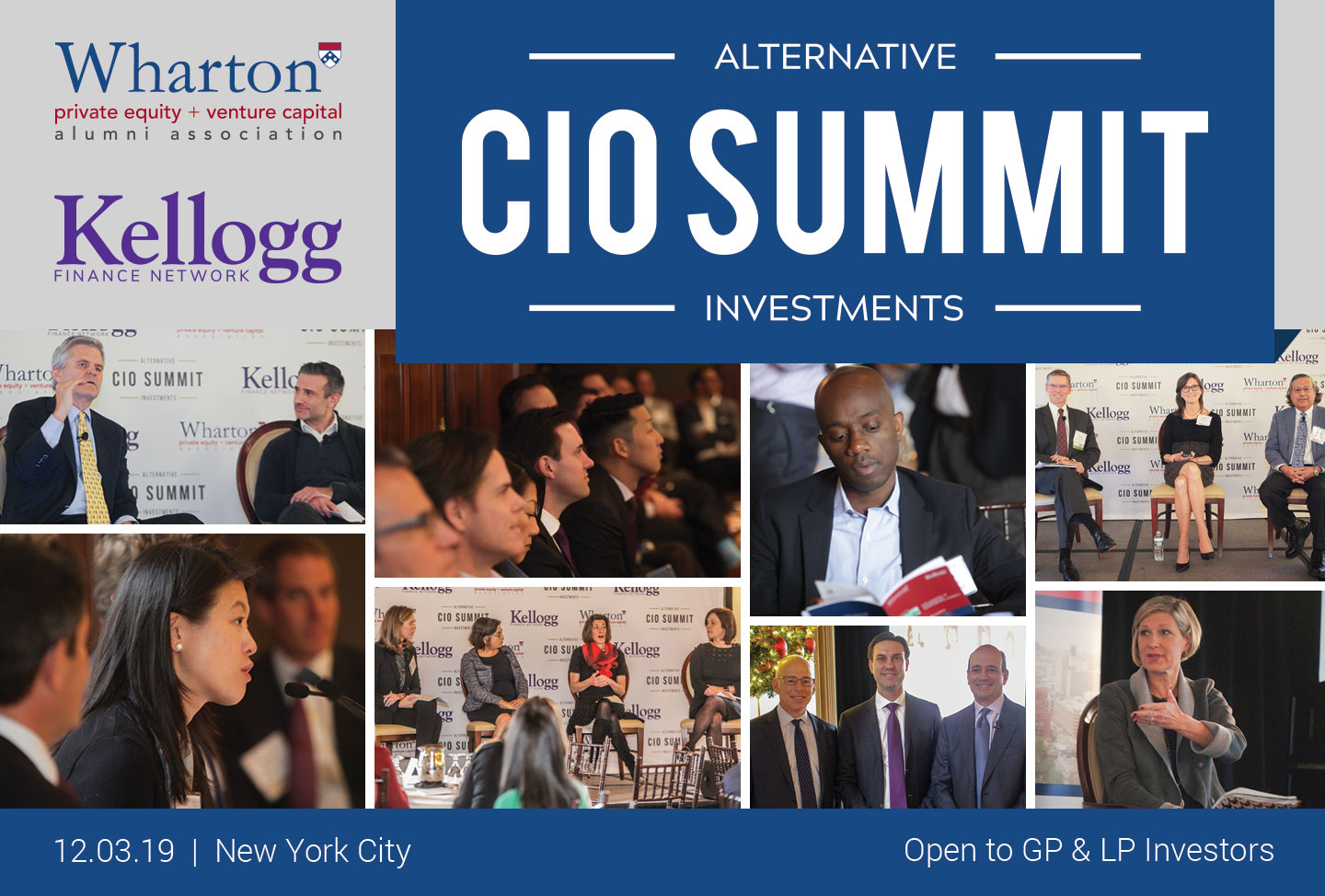 Committee Members
Wharton Co-chairs:
Jonathan Ben-Horin (WG'11)
Ken Lee (WG'07) - Carnegie Corporation of New York
Kellogg Co-chairs:
Greg Williamson (KSM'85) - Pluribus Labs
Chris Winiarz (KSM'10) - Lakeview Capital Management
Planning Committee:
Tod Buys (KSM'01) - Cambridge
Jose Guzman (WG'11) - New York City Pension Fund
Emily He (WG'16) - Rockefeller Foundation
Clara Kim (KSM'01) - Colchis Capital Management
David Koh (KSM'99) - Bank of America
Edyta Riley (C'04, WG'10) - Ford Foundation
Tina Sodhi - Triago
Jared Weiner (WG'07) - Archean Capital
Tuesday, December 3, 2019
New York Athletic Club | 180 Central Park South
New York, NY (59th & 7th Avenue)
8 AM - 6:30 PM
Open only to institutionally sized GPs/LPs.
LP scholarships available to non-profit pensions,
foundations, endowments - inquire to info@wpevc.org
| | | | | |
| --- | --- | --- | --- | --- |
| | | | | |
| | | Bon French | Bennett Goodman | Marc Levine |
KEYNOTE SPEAKERS
Bennett Goodman, Sr. Managing Director & Founder of GSO Capital Partners
Marc Levine, former Chairman, Illinois State Board of Investment
T. Bondurant "Bon" French, Chairman, Adams Street Partners

FEATURED CIOs
John R. Barker, CIO, Partners HealthCare Investment Office
Jason Bull, CIO, University of Georgia Foundation
Sean Casey, Director, B1 Capital Partners
Devana Cohen, CIO, UJA Federation of New York
Jason Klein, SVP & CIO, Memorial Sloan Kettering
Brian O'Neil, CIO, Robert Wood Johnson Foundation
Brian Pellegrino, CIO, Georgia Tech Foundation
Srinivas "Srini" Pulavarti, CIO, Emory University
Sue Slocum, CIO, Children's Minnesota
Chris Winiarz, CIO, Lakeview Capital Management

PROGRAM TOPICS
CIO Perspectives: Managing the Investment Office
The Evolution & Mainstreaming of Alternative Investing
Venture Capital and the Latest Emerging Technologies
New CIOs: Setting Strategy & Navigating the Investment Office
Real Assets Investment Strategies

What distinguishes the CIO Summit from other conferences?

The Summit consistently attracts world-class investors and thought-leading allocators for a powerful day of networking and high-level discussions of the most critical issues confronting money managers and investment officers. Several important factors distinguish this Summit from other conferences.
Hosted by two top-tier university-based organizations
Focused on bringing LPs and GPs thought-provoking content and ideas in an intimate, engaging environment.
A peer only setting/investor only for alternative investors who share the common interest of participating in leading edge discussions about the future of our industry
Multi-year success in convening investment decision makers from endowments, foundations, single/multi- family offices, corporate and public pensions, as well as insurance.
No media means open discussions on the most critical topics facing alternative investors today

Attendee make-up:

MagnetWidget::Eve
nt Dashboard




Thank you to our Lead CIO Summit Sponsors:


Interested in sponsorship opportunities? To learn more about becoming one of our exclusive sponsors please email Stephanie McAlaine at smcalaine@wpevc.org or
Jen Simons at jsimons@wpevc.org.

Cancellation & Refund Policy:
Cancellations must be received by November 22 at 9 PM EST to receive a refund. Email jsimons@wpevc.org. Substitutions welcome in advance or onsite; attendees must be institutionally sized
GPs/LPs and meet the same criteria as the intended guest.