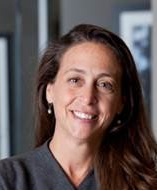 Leslie Golden - (W '89 WG '96)
Co-Chair Women's Initiative


Leslie Golden is a Managing Director at Digital Bridge & Digital Colony. Previously, she was an MD at Macquarie Infrastructure and Real Assets (MIRA) and is the Head of Strategic Investor Relations—Energy. Leslie has over 25 years of private equity, investment banking and capital markets experience. She joined MIRA from Ridgewood Energy, a private equity firm investing in oil and gas projects in the Gulf of Mexico. She was Ridgewood's Head of Investor Relations and managed all aspects of institutional investor relations, including fundraising, strategy and business development, marketing and communication.

Leslie started her career with Lehman Brothers and subsequently worked with Bankers Trust and Bank of America (Nationsbanc Montgomery), where she was a founding member of the Latin America Merchant Bank. Leslie received both a BS and an MBA from the Wharton School of Finance at the University of Pennsylvania.