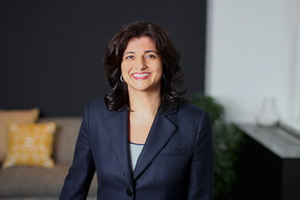 Seema Hingorani (WG'96), Girls Who Invest
Wharton Women in PE & VC welcomes Seema Hingorani
Midtown, New York City
Registration Open
Wharton Women in PE & VC welcome

Seema Hingorani (WG'96), Founder, Girls Who Invest
CIO, SevenStep Capital

Join our Founding Committee along with
women leaders in private equity, venture capital and limited partner investments
for an engaging discussion about expanding the presence of women in alternative investments
and the role both of our organizations can play in changing the imbalance
as we continue building this trusted network of alumnae.

Date: Wednesday, January 24, 2018
Location: Macquarie, 125 W. 55th Street, New York City
Time: 5:00pm - 7:00pm
About Seema Hingorani
Seema is Founder and Chief Investment Officer of SevenStep Capital, an opportunistic alternatives seeding platform that has a focus on investing in women and minority portfolio managers. She is also a Senior Advisor to Crestview Partners. Until June 30, 2014 she served as Chief Investment Officer for the New York City Retirement Systems which had assets of $160 billion. Previous to this appointment, Seema was Interim Chief Investment Officer and before that Head of Public Equities & Hedge Funds for the pension funds. Under her leadership, the pension fund was named Hedge Fund Manager of the Year - Large Public Pension Plans by Institutional Investor. Prior to her four years of public sector experience, she served as Global Director of Fundamental Research at Pyramis Global Advisors; a General Partner, Portfolio Manager and Senior Equity Analyst with hedge fund Andor Capital Management; a General Partner and Senior Equity Analyst at hedge fund Pequot Capital Management; Co-founder of hedge fund Mirador Capital Management; and an Equity Analyst with T. Rowe Price.
Seema has worked with several organizations focused on issues concerning women and girls and is a prolific speaker on the topic of a more robust inclusion of women in the corporate sector. She was honored as the 2016 Woman with Impact by the Connecticut Women's Business Development Council, Wall Street Women Entrepreneur of the Year in 2015 by Traders magazine and received the 2015 Women in Finance Achievement award from MarketsMedia for her work with Girls Who Invest. Seema served as a member of the National Finance Committee of Secretary Clinton's 2016 Presidential Campaign. Ms. Hingorani is an active member of The Economic Club of New York and 100 Women in Finance and also served for eight years as a member of the Board of Directors of Project Enterprise, a nonprofit microfinance organization dedicated to supporting and to developing entrepreneurs and small businesses (most of which were women and women-owned) in under-resourced communities in New York City. She earned her BA in Psychology/Philosophy from Yale College and her MBA in Finance from The Wharton School at the University of Pennsylvania.
About the Wharton Women in PE & VC Initiative:

Mission:
The Wharton Women in PE & VC Initiative is designed to connect a uniquely powerful group of Wharton and UPenn alumnae investing private equity and venture capital by creating a confidential peer environment to encourage open discussion, guidance, networking and best practice sharing.