Wharton PE & VC Alumni Dinner & Annual PE & VC Conference
New York City
Open to Members and Alumni investing 3rd party capital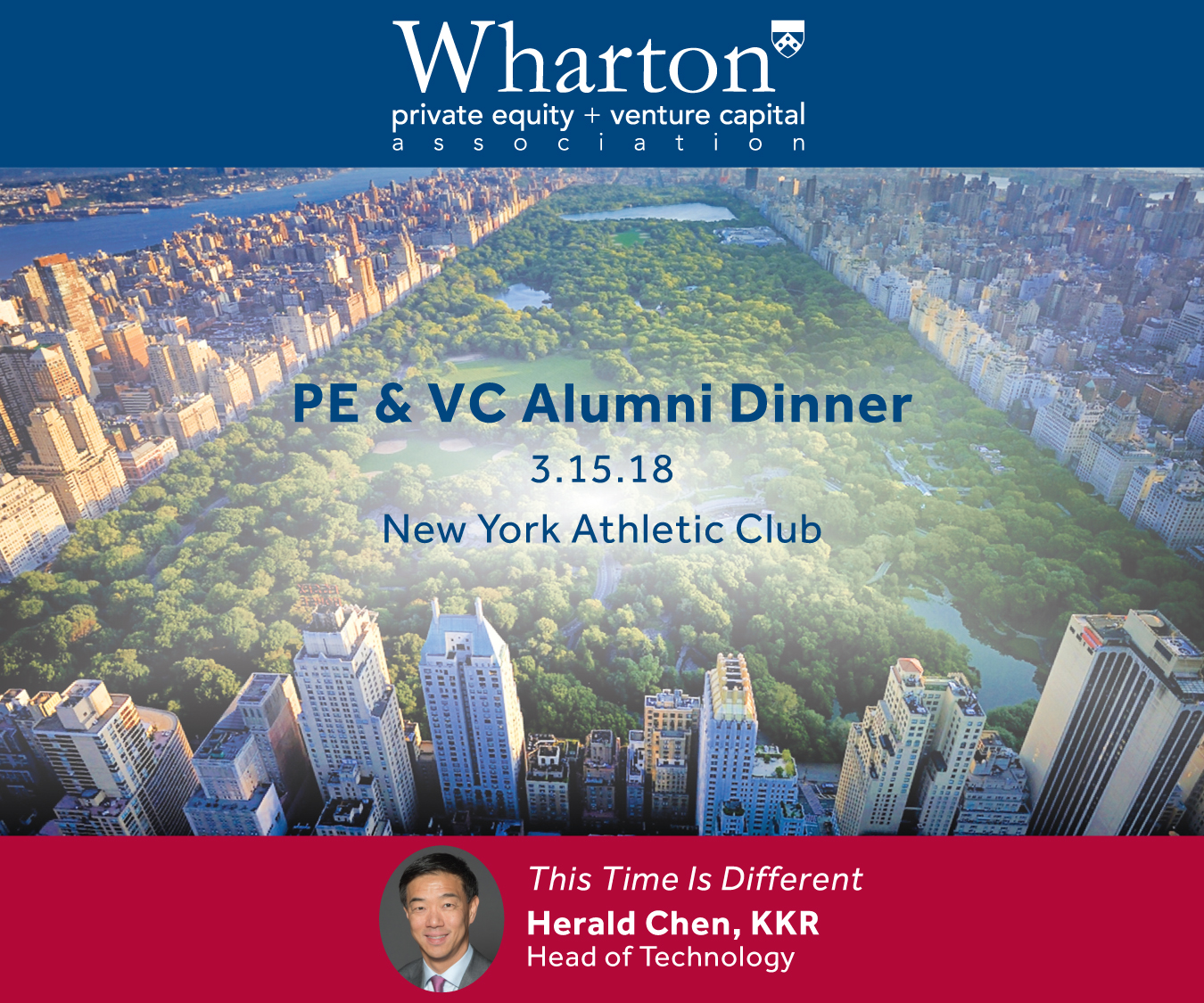 ---
Two great events. One convenient venue.

New York Athletic Club
180 Central Park South, New York, NY

Schedule of Dinner Events
Thursday, March 15, 2018

5:30 pm Investment-themed Roundtables - VIEW OUR SPEAKERS
- Funding & Adopting Frontier Technologies
- Building a High Performance Management Team​
- Investing in Healthcare
- Allocating Capital in 2018: LP Perspective
- Senior Investor Panel: State of the Union
- Evolving Role of ESG Investing

6:30 pm Cocktails

7:30 pm Program featuring Herald Chen, KKR & Dinner
After Dinner Drinks & NCAA Basketball

More event details including Hotel Room Block
Schedule of PE & VC Conference
Friday, March 16, 2018

8:30 am Registration

9:15 am - 5:00 pm Keynotes, Lunch & Programs featuring
Sean Cunningham, GTCR | Beth Ferreira, FirstMark Capital
Scott Kleinman, Apollo | Tom Lister, Permira

5:00 pm Cocktails & Networking

Full event details: http://www.whartonpevcconference.org/

Limited tickets remain available. Save with a bundled ticket

Member Rates
Non-Member Rates

Grad Year

Dinner Only

Dinner + Conference

Dinner + Membership

Dinner + Conf + Membership

Young Alumni

(2014-17 Grads)

$145
$290
$195
$340
Alumni

(2013 and earlier)

$195
$390
$245



$440



Membership Eligibility: WPEVC is open to PE and VC investment professionals investing third party capital from committed funds AND who are graduates of Wharton or UPenn. Private equity professionals include those investing venture, growth, mezzanine, buyouts, private debt, or secondaries from a dedicated fund or institutional limited partners of funds and professionals who manage third party fund-of-funds targeting the private equity space. Funds must be closed at the time your application is submitted.

Hotel Accommodations: A room block is available at the New York Athletic Club for $235. Call 212-767-7135 or email reservation@nyac.org and ask for the "Wharton Alumni Dinner" rate. Limited rooms available.

Dress Code: A jacket and collared shirt are required for men, and a jacket and tie are preferred. Women should dress with equal formality.

Cancellation Policy: Cancellations for the Annual Dinner must be received via email to jsimons@wpevc.org by 9 PM EST on Monday, March 5, 2018 in order to receive a refund. Substitutions are welcome in advance or at the door.

Questions with registration or log-in: Contact Stephanie McAlaine, smcalaine@wpevc.org or Jennifer Simons, jsimons@wpevc.org
Add event to calendar
Apple Google Outlook Outlook.com Yahoo