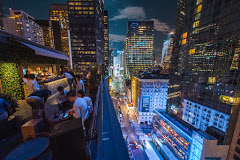 NYC PE & VC Drinks Meet Up
Re-connect with peers in Midtown Manhanttan on the Rooftop!
Midtown Dream Hotel, NYC


(open to members)



The Wharton PE & VC New York Co-Chairs
invite you to join us for
a casual evening of drinks, appetizers.
NOTE: our event has moved to the Rooftop!
Appetizers are on WPEVC and great drink specials are on tap (cash bar).
While there is no cost for members to attend
we ask that you RSVP so we can estimate food requirements
Friday, October 13th @ 7pm
The Dream Midtown Hotel, Rooftop
210 West 55th Street, New York
We hope to see you there.
Interested in joining WPEVC? Learn more here.