2023 MBA Buyout Case Competition - Call for Judges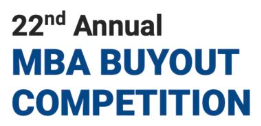 Wharton's Private Equity & Venture Capital Student Club is hosting its 22nd Annual MBA Buyout Case Competition in New York City on Friday, March 24, 2023 and they are currently seeking alumni to join us as judges on the competition day. If you are interested or have questions, please contact Staci Dawidowski at stacid@wharton.upenn.edu.


For your convenience we've included additional information below.
This competition, which will return to an in-person format following a virtual event last year, brings together teams from top MBA programs to simulate a private equity professional's work in deal evaluation, network with judges in the private equity industry, and interact with other students from top MBA programs across the world. This is also a valuable opportunity for private equity firms to gain exposure to a fantastic pipeline of potential candidates. There will also be opportunities for networking throughout the day.
Judges needed for the morning session, from approximately 9:00am - 12:00pm

Targeting Wharton / UPenn Alumni who are Principal, Director and Partner level (grad year of 2019 or earlier)

We can also host judges for the afternoon session (approximately 1:00 - 4:00pm) or accomodate any judges that would like to participate in both sessions.

Logistics for Judges

Date: Friday, March 24
Time: 9:00am – 5:00pm (competition + networking)
Location: 601 Lexington Ave, New York (offices of Kirkland & Ellis, a sponsor of the student Club)